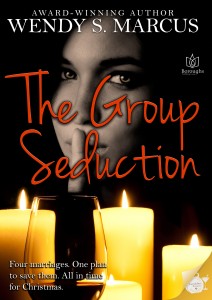 I'm starting my holiday celebration early this year with the release of my first Christmas short story,The Group Seduction. (Available now!)
Official blurb: Bella Cristy is gambling that a daring plan will save her marriage–and the marriages of three other friends–in time for the holidays.
My blurb: To reignite the spark in her marriage, a 39-year-old, plumper-than-she'd-like-to-be, mother of three enlists the assistance of three similarly sexless, many-years-married Bunco buddies to stage a seduction of their husbands – in time for the holidays. A group seduction…not to be confused with group sex!
What Goodreads members are saying about The Group Seduction :
"This sexy little short is sweet, funny and incredibly real!" Tracey
"This is a lovely little short story about a woman prepared to do what it takes to reinvigorate a marriage gone stale from neglect." Fiona
"How great is it, when you read a story and it's so close to your own life that you find yourself saying, "That very thing has happened to me!" Jan
To find out more and for links to purchase go HERE.
Do you read holiday stories all year long or only around the holidays? Have you started reading them for this year, or do you prefer to wait until after Thanksgiving?
Thanks for stopping by!