Hi All!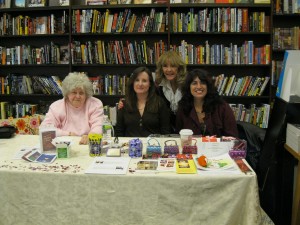 Here are the results of my Nook Book Signing:
First off, what is a Nook Book Signing? The wave of the future! With more and more books coming out in e-book form, how are authors to connect face to face with readers? By taking a nontraditional tack from the traditional book signing.
How it worked: Several author friends and I set out our swag (promo items) on two long tables. Since we weren't there to sign books, we needed to provide other promo items we could sign.  Barnes and Noble provided slips of paper with the names of our books and the ISBN numbers for customers to bring to the cash register for purchase. There they received a receipt with a download code so they could download the book to their Nook, or to their personal computer via the Nook App. Barnes and Noble also had special packaging available in case customers wanted to give the download as a gift. And might I say, Barnes and Noble in the Pallisades Mall is a wonderful place to hold a book signing. Every employee was friendly and accommodating!
What we did: The store was very busy on a Saturday afternoon and the staff made frequent announcements inviting customers to visit our tables. In addition, we were encouraged to get up and mingle with the customers, which we did. That said, I found that most people I spoke with – who were shopping in the actual Barnes and Noble store – did not own Nooks (or any e-reader, for that matter) and were not familiar with the Nook app. As a result, in addition to discussing my books, I did a lot of education as to the wonderfulness of e-readers!
The results: (My sales rankings – And remember, the lower the number the closer you are to #1 bestseller!)
Barnes and Noble
Friday Night:
Once a Good Girl  73,862   When One Night Isn't Enough  105,946
Saturday morning (before signing):
Once a Good Girl  71,022     When One Night Isn't Enough  110,037
Sunday morning (after signing):
Once a Good Girl  67,173     When One Night Isn't Enough  110, 247
Monday morning:
Once a Good Girl  65,738     When One Night Isn't Enough   123,875
Conclusion: After my Nook Book Signing I SOLD BOOKS! Which is what's supposed to happen as a result of a book signing. Interesting enough, I noticed an increase in Kindle sales as well. And, while When One Night Isn't Enough didn't show sales on Barnes and Noble, it did show sales on Amazon. Were the sales related to the Nook Book Signing? Unrelated? I'll never know. But sales are sales, and sales are good!