Welcome!
I'm thrilled to share my Harlequin Medical Romance, SECRETS OF A SHY SOCIALITE, has won the 2013 National Readers Choice Award for Contemporary Series Romance!!! Here's a picture of the award!
If you haven't read it yet, you can find out more about SECRETS OF A SHY SOCIALITE, including the other award it won, HERE.
I know I haven't had a new book  out in a while, but hang in there! I have two new releases coming soon!
THE V-SPOT, a Cosmo Red Hot Read from Harlequin, coming on October 8, 2014. Here's the cover. I LOVE it!!!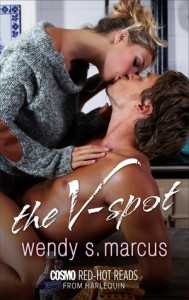 And,
LOVING YOU IS EASY, a Loveswept Contemporary Romance, coming on December 9, 2014. **Note the new release date. I can't wait for you to read this story!!
And here's the cover! Love this one, too! So romantic!
I am thrilled by the advance praise LOVING YOU IS EASY is receiving from some big name authors!!!
"A fresh story, memorable characters, and breathtaking romance. . .You must read this book!"–New York Times bestselling author Jennifer Probst

"Wendy S. Marcus writes believable characters and tons of emotion."–USA Today bestselling author Sarah Morgan
 
"A unique story with emotional twists and turns on the road to happily ever after."–New York Times bestselling author Carly Phillips
Find out more about both books and find links to pre-order on my Coming Soon page.
Where I'll be this month:
On Wednesday, August 13th, I'll be attending a Facebook Release Party for The Husband Games written by the very talented Jamie Farrell. Stop by HERE between 7:30 and 8:00 p.m. EST to chat with me. I'll be giving away some of my books!!!
You can also find me on my Facebook author page and on Twitter.  Unless I'm away, I visit both every day. (Okay, to be honest, around a dozen times a day!)
During your visit:
Be sure to sign up for my newsletter  so I can keep you up to date on my happenings and new releases.
And don't forget to stop by my blog to introduce yourself. I love meeting new people!
My current motivation:  "Hard work beats talent when talent doesn't work hard." ~ Tim Notke