Welcome!
The holidays are coming! And I'm starting the celebration early with the release of my first Christmas short story!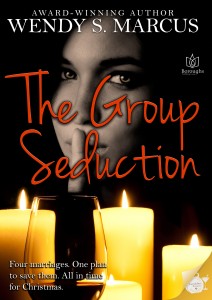 Official blurb:  Bella Cristy is gambling that a daring plan will save her marriage–and the marriages of three other friends–in time for the holidays.
My blurb: To reignite the spark in her marriage, a 39-year-old, plumper-than-she'd-like-to-be, mother of three enlists the assistance of three similarly sexless, many-years-married Bunco buddies to stage a seduction of their husbands – in time for the holidays. A group seduction…not to be confused with group sex!
Here's what readers are saying about The Group Seduction: (Taken from Goodreads)
"This sexy little short is sweet, funny and incredibly real!" Tracey
"This is a lovely little short story about a woman prepared to do what it takes to reinvigorate a marriage gone stale from neglect." Fiona
"How great is it, when you read a story and it's so close to your own life that you find yourself saying, "That very thing has happened to me!" Jan
Find out more about The Group Seduction HERE.
And I have more exciting news:
Secrets of a Shy Socialite won the 2013 New Jersey RWA Golden Leaf Award for best in Contemporary Series. Check out all the winners HERE. And visit my Blogfor some pictures. If you're familiar with Angelina Jolie's decision to undergo elective double mastectomies, that is the topic of this book (which came out before Angelina's big announcement.) If you haven't read Secrets of a Shy Socialite yet, you can find out more about it on my Medical Romance Books page.
Once a Good Girl made the finals in the Short Contemporary category of the 2013 Desert Rose RWA Golden Quill Contest AND the Short Series Contemporary category of the 2013 WisRWA Write Touch Reader's Award Contest!!  If you haven't read Once a Good Girl yet, find out more about it on my Books page.
Recent Release Information:
Tempting Nurse Scarlet, book #6 in the exciting Harlequin Mills and Boon Medical Romance continuity, NYC Angels, is still available in the U.S., UK, and Aus/NZ. Check out my Medical Romance Books page for an excerpt. Buy links can also be found to the right of this page. Of note, even though Tempting Nurse Scarlet is part of an 8 book continuity, it can be read as a standalone book. Check out some GREAT reviews HERE.
Where I'll be this month:
Look for me on Facebook and Twitter.  Unless I'm away, I visit both every day. (Okay, to be honest, around a dozen times a day!)
During your visit:
Be sure to sign up for my newsletter  so I can keep you up to date on my new releases. (That's the only time you'll get a newsletter from me. Promise!)
And don't forget to stop by my blog to introduce yourself. I love meeting new people!
My current motivation:  "No one can cheat you out of ultimate success but  yourself." ~ Ralph Waldo  Emerson