Welcome!
It's December and my first Loveswept Contemporary Romance, Loving You Is Easy, releases on December 9th! I'm so excited! I can't wait for all of you to read it.  See the fantastic cover below.
Join in the release celebration on Wednesday, December 10th, from 6p – 10 p EST, when I'll be throwing a Facebook Release Party! 12 of my very fun author friends will be stopping by during the party. For my UK friends, I'll have some surprise guests in the afternoon.There'll be lots of giveaways! You do not want to miss it! Join in the fun HERE. 
And be sure to scroll down for information on my blog tour running from December 1st to December 26th.
She's a survivor of the front lines of politics. He's a wounded soldier returning home from the battlefield. Can they place their trust in the power of love?
Nobody plays the role of perfect politician's daughter better than quiet, respectable math teacher Brooke Ellstein. But she won't be caught swimming with the sharks again, not after the son of a wealthy donor sinks his teeth into her and gets away with it. Still, political connections have their perks, such as heading up the governor's "Support Our Troops" pen-pal initiative—and getting first dibs on the smoking-hot sergeant whose picture shakes her right down to her goody-two-shoes.
When corresponding with sweet, classy Brooke, Shane Develen instinctively hides his commando tattoos and blue-collar roots—and he can tell that she's hiding something, too. But Shane knows he's gained her trust when Brooke gives him a blisteringly sexy photo. Then he's injured in an ambush and a fellow soldier posts the snapshot online. Overnight, Brooke's reputation turns to ashes. Even though he's totally wrong for her, Shane shows up on Brooke's doorstep, determined to set things right—and discovers that right or wrong has nothing on the chemistry they share.
Advance praise for Loving You Is Easy 
"A fresh story, memorable characters, and breathtaking romance . . . You must read this book!"—New York Times bestselling author Jennifer Probst
"Wendy S. Marcus writes believable characters and tons of emotion."—USA Today bestselling author Sarah Morgan
"A unique story with emotional twists and turns on the road to happily ever after."—New York Times bestselling author Carly Phillips
"Loving You Is Easy is a pleasing blend of sexiness and emotionally charged conflict that kept me turning the pages. Wendy S. Marcus doesn't shy away from tough subject matter; she embraces it in a real, visceral way that tugs on the reader's emotions and has you rooting for the characters not just to succeed but to heal, physically and emotionally. The story is unique, the characters flawed but wonderful. Fantastic!"—New York Times bestselling author Donna Alward
"Loving You Is Easy is a super sexy yet incredibly tender love story that'll leave you wishing for just a few more pages . . . and then a few more after that."—Laura Drewry, USA Today bestselling author of Prima Donna
"Loving You Is Easy drew me in on the first page and held me until the last. A great read."—Claudia Connor, author of Worth the Fall
Check out these reviews on Goodreads.
Pre-order links: Random House
Pre-order Amazon: U.S.,  Canada,  UK,  Australia 
For reviewers and book bloggers: Net Galley
On December 1st I'm starting a 26 day blog tour to promote Loving You Is Easy. My publisher will be offering a tour wide $25.00 bookseller gift card plus a Loveswept mug and tote. Visit each stop to enter for a chance to win! Be sure so leave a comment so I'll know you were there!
December 1st: Girl Meets Books -Excerpt
December 2nd: A Bluestocking's Place – Excerpt
December 2nd: Book Reviews and More by Kathy – Promo
December 3rd: Romancing the Readers – Excerpt
December 4th: Sarah's StoryLines – Come chat with me about pen pals. (Sorry. Scheduling snafu.)
December 5th: Christine's Words – Come read a never before seen letter from Shane to Brooke.
December 8th: Romance Book Paradise - Interview
December 8th: Booklover Sue – Excerpt
December 8th:  Ellesea Loves Reading- Excerpt
December 8th: Sassy Moms Say Read Romance- Review
December 9th: Romance at Random – I was interviewed by the lovely Serena Bell 
December 9th: Fiction Dreams- Interview
December 10th: Straight Shootin' Book Reviews- Review
December 10th: Blogger Nicole- Excerpt
December 10th:  A is for Alpha B is for Books- Review
December 10th: Happy Ever After – USA Today – Three things that inspire me.
December 11th:  Crystal Blogs Books- A fantastic review
December 11th: Reading Bliss- Review
December 12th: The Many Faces of Romance- Review
December 12th: Underneath the Covers- Review
December 15th: Harlequin Junkie – Interview/Excerpts/Fun Facts
December 15th: Jen's Reading Obsession- Review
December 16th:  Paola's BookShelf- Excerpt
December 16th: Gemma Reads Too Much for it to be Normal- Review
December 17th: Manga Maniac Cafe- Five things Shane would never have in his rucksack.
December 17th: A Tasty Read Book Reviews – Post on pen pals and a review
December 18th: Roberta's Dreamworld- Interview
December 18th: Lustful Literature- Review
December 18th: In Between the Lines- Excerpt
December 19th: Read Your Writes Book Reviews- Review/Character Interview
December 19th: Books Need TLC- Review
December 22nd: Written Love- Review
December 22nd: Hot Guys in Books- Review
December 22nd: A Fortress of Books- Excerpt
December 23rd: Book Freak- Review
December 24th: Worth Reading It- Review/Character Interview
December 24th: Love Romance Books- Review
December 25th: Illustrious Illusions- The presents Shane and Brooke exchanged for the holidays.
December 26th: Ramblings From This Chick- Loving You Is Easy trivia.
December 26th: The Sassy Bookster- Review
And don't forget about my Cosmopolitan Red Hot Read from Harlequin, The V-Spot. This is a HOT one!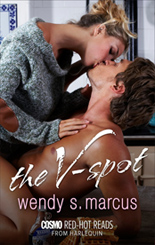 How hot is your night going to get? Take the quiz and find out!
1. You're a curvy, cute and practical nurse, ready to unleash your inner naughty nymphette for your 25th birthday. You start with…
a. Chocolate cake.
b. Champagne. Lots of it.
c. A blind date set up by your daring best friend.
2. Your guy turns out to be popular (and insanely hot) wrestler Brody "The Bull" Bullock. You…
a. Run for the door.
b. Admire his hotness, then run for the door.
c. Imagine him naked.
3. You're meeting Brody at The V-Spot, a "Voyeur Motel." What are you wearing?
a. A cute sundress with wedge sandals
b. You're not going anywhere without Spanx
c. Doesn't matter. Brody is sexy enough that it's all coming off!
If you selected all of the above, you're in for the night of your life….
Check out these great reviews on Goodreads.
Buy in the U.S.: Kindle,   Kobo,  Nook,   Harlequin,  ibooks
Buy in the UK: Kindle,   Mills and Boon UK
Buy in Canada: Kindle
Buy in Australia: Kindle,   Mills and Boon Australia
For reviewers and book bloggers: Net Galley
During your visit:
Be sure to sign up for my newsletter  so I can keep you up to date on my happenings and new releases.
And don't forget to stop by my blog to introduce yourself. I love meeting new people!
My current motivation:  "The only disability in life is a bad attitude." Not sure who to give credit to, but I love this quote.