Welcome!
I'm so excited because today (October 8th) is RELEASE DAY FOR THE V-SPOT, my Cosmopolitan Red Hot Read from Harlequin!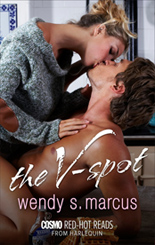 How hot is your night going to get? Take the quiz and find out!
1. You're a curvy, cute and practical nurse, ready to unleash your inner naughty nymphette for your 25th birthday. You start with…
a. Chocolate cake.
b. Champagne. Lots of it.
c. A blind date set up by your daring best friend.
2. Your guy turns out to be popular (and insanely hot) wrestler Brody "The Bull" Bullock. You…
a. Run for the door.
b. Admire his hotness, then run for the door.
c. Imagine him naked.
3. You're meeting Brody at The V-Spot, a "Voyeur Motel." What are you wearing?
a. A cute sundress with wedge sandals
b. You're not going anywhere without Spanx
c. Doesn't matter. Brody is sexy enough that it's all coming off!
If you selected all of the above, you're in for the night of your life….
Check out these great reviews on Goodreads.
Buy in the U.S.: Kindle,   Kobo,  Nook,   Harlequin,  ibooks
Buy in the UK: Kindle,   Mills and Boon UK
Buy in Canada: Kindle
Buy in Australia: Kindle,   Mills and Boon Australia
For reviewers and book bloggers: Net Galley
Where I'll be this month:
On October 9th I'll be visiting Harlequin Junkie  where I'll be sharing some sneak peeks and giving away two copies of THE V-SPOT! If you have a few minutes, please stop by to chat with me. And make sure you check out Sara's fantastic review of THE V-SPOT.
October 14th I'll be visiting the Harlequin Blog with my post You Set Your Story at a What?
If I'm feeling better, October 17 through 19 I'll be attending the NJ RWA Put Your Heart In a Book Conference at the Renaissance Woodbridge Hotel in Iselin, NJ. I hope to see you there!
And of course you can also find me on my Facebook author page and on Twitter.  Unless I'm away, I visit both every day. (Okay, to be honest, around a dozen times a day!)
During your visit:
Be sure to sign up for my newsletter  so I can keep you up to date on my happenings and new releases.
And don't forget to stop by my blog to introduce yourself. I love meeting new people!
My current motivation:  "Hard work beats talent when talent doesn't work hard." ~ Tim Notke