Hi! Welcome to my website!
I'm kicking off the holiday season with a short holiday story! To Save a Marriage: Game Night Seduction. This book was previously published as The Group Seduction. But, as much as I loved that title, I fear it had readers thinking there is group sex in the book, and there isn't! So I've given the story a new cover (see below), a new title (I hope you like it!), and a fresh edit to make it even better than it was before!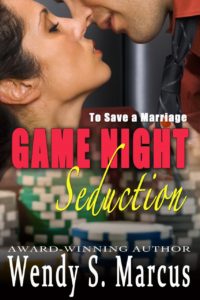 Gambling on seduction to save a marriage
The holidays are approaching fast, and Annabella Cristy—a thirty-nine-year-old, plumper-than-she'd-like-to-be, mother of three—is determined not to let another year end without reigniting the spark in her marriage. So she enlists the help of three not-so-happily married, similarly sexless friends to stage a seduction of their husbands on game night.
…could be the riskiest bet of all.
When Jack Cristy finds a brand new negligee and a pair of sexy silver stilettoes hidden in the back of the closet he shares with his wife, he knows something's up. It's been years since she's come to his bed wearing anything close to sexy. Why does she have them? And just who the hell is she planning to wear them for?
Praise for To Save a Marriage: Game Night Seduction
"It was so easy to identify with Bella and her friends, and how marriage and everyday life can erase sexuality. Loved the premise, characters, heat level, and of course, the ending! What a fresh and unique story – HIGHLY recommended!" ~ New York Times bestselling author, Jennifer Probst
"Wendy S. Marcus is a gifted writer telling an important story about the perils of taking our spouses for granted. This book should be required reading for struggling married couples." ~ Lynne Marshall, author of A Soldier's Second Chance
"This short read will strike a chord for anyone who's been married for several years and has the added responsibilities of children, work and more. Treat yourself to this story this weekend!" ~ Kelsey Browning, USA Today bestselling author of Going Hard, Steele Ridge Series
"Wendy S. Marcus has given her readers a delightful story, just in time for the holidays! How great is it, when you read a story and it's so close to your own life that you find yourself saying, "That very thing has happened to me!" You might just ignore those "Do not try this at home" warnings by the time you reach the end!" ~Jan Meredith, Award-Winning author of Playing Doctor
Add to your books on Goodreads
Buy on Amazon: U.S.,  Canada,  UK,  Aus/NZ
And be sure to check out A Dare Without Regret, the follow up novella to A Dare with Consequences, both part of Carly Phillips' Dare to Love Kindle World! Since it's a Kindle World book, it is only available on Amazon U.S.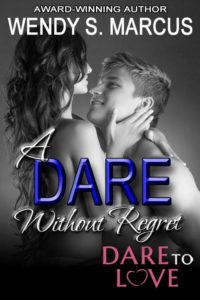 Ryan Monighan is one of the most popular players on the Miami Thunder Football Team. An all-star running back, he always makes time for his fans. They want a picture? He smiles pretty. An autograph? He's always got a marker handy. Sex? If she turns him on, then heck yeah! Too bad the only thing sexy, sassy Kiley Ivers wants from him is the one thing he will not do for a fan. And she won't take 'no' for an answer.
Kiley Ivers is barely keeping it together. After losing her family in a tragic car accident, she's left alone to run the family bakery and care for her thirteen-year-old nephew, Tyler. The sole survivor, he's stuck in the hospital, depressed and in pain. And Kiley will do anything to get his favorite football player to stop by for a visit to cheer Tyler up. Even go out on a date with him.
When things heat up between them, Kiley is on board with a short fling, as long as Tyler doesn't find out. She plans to be a respectable guardian for her impressionable young nephew. Unfortunately, nothing in Ryan's life stays secret for long.
Find out more about book #1, A Dare with Consequences, HERE. 
It's important to note, both novellas are complete stories that do not end in a cliffhanger. You can read one or both. It's up to you! 
Have you read my Loving You series from Random House Loveswept? Find out more about book #1, Loving You Is Easy and book #2, All I Need Is You, HERE.
During your visit:
Be sure to sign up for my newsletter  so I can keep you up to date on my new releases and special pricing of my books. And visit my Let's Chat page to find me on social media!
My current motivation:  "Be better than you were yesterday." Not sure where I picked this one up but I love it!!