Welcome!
I'm so excited because THE V-SPOT, my Cosmopolitan Red Hot Read from Harlequin, is finally here!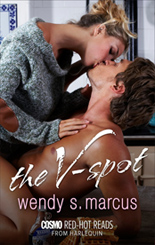 How hot is your night going to get? Take the quiz and find out!
1. You're a curvy, cute and practical nurse, ready to unleash your inner naughty nymphette for your 25th birthday. You start with…
a. Chocolate cake.
b. Champagne. Lots of it.
c. A blind date set up by your daring best friend.
2. Your guy turns out to be popular (and insanely hot) wrestler Brody "The Bull" Bullock. You…
a. Run for the door.
b. Admire his hotness, then run for the door.
c. Imagine him naked.
3. You're meeting Brody at The V-Spot, a "Voyeur Motel." What are you wearing?
a. A cute sundress with wedge sandals
b. You're not going anywhere without Spanx
c. Doesn't matter. Brody is sexy enough that it's all coming off!
If you selected all of the above, you're in for the night of your life….
Check out these great reviews on Goodreads.
Buy in the U.S.: Kindle,   Kobo,  Nook,   Harlequin,  ibooks
Buy in the UK: Kindle,   Mills and Boon UK
Buy in Canada: Kindle
Buy in Australia: Kindle,   Mills and Boon Australia
For reviewers and book bloggers: Net Galley
Where I'll be this month:
November 12th – I'll be guest-hosting at the Curl Up With Your E-Reader Release Party from 6:00 -6:30 p.m. EST. Stop by for a chance to win a copy of The V-Spot or Loving You Is Easy, winner's choice.
November 18th – I'll be guest-hosting at Jamie K. Schmidt's Spice Release Facebook Party from 8:30 -8:45 p.m. EST. It's a quickie visit so make sure to get there on time. I'll be giving away a copy of The V-Spot.
November 24th – I'll be guest-hosting at the Thankful for Romance Facebook party from 8:00 – 8:45 p.m. This event runs from the 21st to the 24th with a bunch of fabulous authors attending and giving away freebies. You should definitely check it out!!! I'll be giving away a copy of Loving You Is Easy.
November 28th – I'll be blogging at The Pink Heart Society. My topic is Do Readers Really Want Realistic Heroines? Please stop by to let me know what you think. I'll be giving away a copy of The V-Spot.
Coming up in December I'll be embarking on a blog tour from December 1 to December 26th to celebrate the release of my Loveswept contemporary romance, Loving You Is Easy, which releases on December 9th. So be sure to stop by in December for links to each blog stop.
And of course you can also find me on my Facebook author page and on Twitter.  Unless I'm away, I visit both every day. (Okay, to be honest, around a dozen times a day!)
During your visit:
Be sure to sign up for my newsletter  so I can keep you up to date on my happenings and new releases.
And don't forget to stop by my blog to introduce yourself. I love meeting new people!
My current motivation:  "The only disability in life is a bad attitude." Not sure who to give credit to, but I love this quote.