Hi! Welcome to my website!
Check out my most recent Loveswept Contemporary Romance, All I Need Is You!
Meet Rory!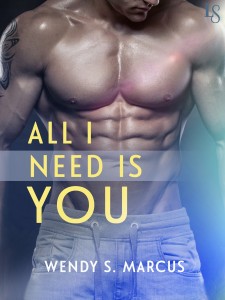 Perfect for fans of Kristan Higgins and Robyn Carr, this sexy yet sweet military romance reunites a headstrong dancer and a rugged army soldier after one steamy encounter tears them apart.
As a dancer who creates mesmerizing visions onstage, Neve Jaimes is looking for the same kind of stability in her love life. Her pen pal, Rory McRoy, is on leave from deployment in Afghanistan, so she heads to Boston to surprise him. After corresponding for months as part of a "Support Our Troops" initiative—and exchanging dozens of "Read When You're Alone" letters—Neve knows what Rory likes, and she intends to fulfill his every fantasy. But all they get are a few blissful moments together before they're interrupted by a woman claiming to be Rory's fiancée.
Rory has fallen hard for Neve's letters. When he finally meets her in person, he has to have her, right then and there—until Neve takes off in a fit of anger. Forced to return to Afghanistan before he can fix things between them, Rory waits four agonizing months to prove that he's not the man Neve thinks he is. But by the time he arrives in New York, she's already made up her mind. Luckily, Rory never backs down from a challenge, and he's prepared to put everything on the line for love.
Advance praise for All I Need Is You:
"Wendy S. Marcus delivers again with All I Need Is You, a sexy, heartfelt story that I loved!"—New York Times bestselling author Jennifer Probst
"Marcus has delivered a delightfully witty, funny, and sexy romance that melts your heart and makes you believe in happily ever after again. All I Need Is You kept me hooked from page one to the very end—and I enjoyed every second of it!"—New York Times bestselling author Rebecca Zanetti
"Marcus has penned a perfect romance in All I Need Is You, with a sexy dancer heroine, a hot military hero with a sense of humor, and a story you won't want to end."—New York Times bestselling author Claudia Connor
"Wendy S. Marcus does it again! She brings all the feels in this funny, warm, and wise read. Do yourself a favor and let All I Need Is You sweep you away."—USA Todaybestselling author Amy Andrews   
"All I Need Is You is my kind of book: sexy, sweet, and a great look at what it means to fight the good fight and keep your heart open to love."—Serena Bell, USA Todaybestselling author of Hold on Tight
"All I Need Is You is an emotionally gripping story of second chances and two flawed characters who are perfect to heal each other. I couldn't put it down!"—Katie Rose, author of The Heat of the Moment
All I Need Is You is getting great reviews on Goodreads.
Order on Amazon:  U.S.,  UK,  Canada, Australia.
Other links on Random House website.
Add to your books on Goodreads.
Check out my inspiration for All I Need Is You on Pinterest.
Have you read the first book in the Loving You series, Loving You Is Easy? Find out more HERE.
Here are links to some great reviews and fun posts from the All I Need Is You blog tour: 
(Please note, the blog tour giveaway is over.)
Cuddles Please – Review
Books & Spoons – Review
Kimmie Sue's Book Review  – Review
Swept Away By Romance – Why I love military romance!
Musings and Ramblings  – Interview
Kitty's Book Spot!  – Review
Crystal Blogs Books – Where I get my ideas
Badass Beauties (B.A.Bs) Book Club – Review
A Girl and Her Books – Review
Home.Love.Books – Review
Read Your Writes Book Reviews – GREAT Interview!
mignon mykel : reviews – Review
Renee Entress's Blog – Review
Romantic Fanatic – Review
Sassy Moms Say Read Romance – Review
So Many Reads  – Review
Devilishly Delicious Book Reviews – Review
During your visit:
Be sure to sign up for my newsletter  so I can keep you up to date on my new releases and special pricing of my books. And visit my Let's Chat page to find me on social media!
My current motivation:  "Be better than you were yesterday." Not sure where I picked this one up but I love it!!