Hi! Welcome to my website!
I'm so happy! My novella, A Dare with Consequences, part of Carly Phillips' Dare to Love Kindle World, is finally here!!! Because it's part of a Kindle World, A Dare with Consequences is only available for purchase from Amazon U.S.
Check out this amazing cover made by the very talented Jan Meredith!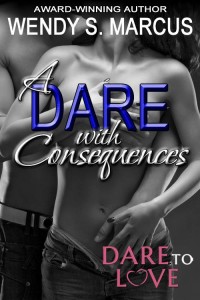 Here's the blurb:
One night on the Island of Eden changes two lives forever.
 Ren Monighan is living the dream, running his very successful business from a condo overlooking beautiful Miami Beach – not that he's around much to enjoy the view. He spends so much time traveling between professional and college football teams, filming practices and creating virtual reality play simulations, he has none left over to look for love. But passing a few hours naked with a pretty bartender named, Anya, fits into his schedule just fine.
Anya Solokov has been working hard to make a better life for herself in New York. She's moved past her days of scrounging for food and doing things she isn't proud of to survive. An MBA from NYU will guarantee her independence and ensure she never has to scrimp and save or go hungry again. When an unplanned pregnancy puts Anya's lifelong goal in jeopardy, Ren's ready to step up. But headstrong Anya won't accept his help unless he comes up with a plan that works for both of them.
Click here for excerpt and to buy on Amazon U.S.
And the limited edition boxed set of the Hot in the Hamptons series is still available!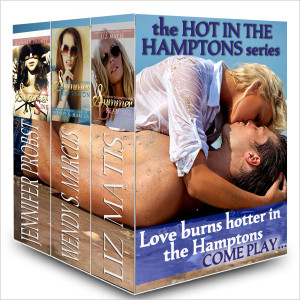 In case you're not familiar with the series:
Storme is getting married! And she invites her two college besties to her mansion on the beach for some fun and frolic while they plan her end of summer wedding.
In Summer Dreaming, Kelsey Mitchell doesn't know what she wants to do with her future. Rather than think about it, she spends her time living out her lifeguard fantasy.
In Summer Temptation, Leigh DeGrey is dealing with a life-changing secret. But she still manages to have some fun in the arms of a temporarily jobless Wall Street analyst.
In Summer Sins, Storme Sullivan is having second thoughts. Then she meets a smart-mouthed, bad-boy biker and winds up spending way too much alone time with a man who is not her fiancé.
How will the summer end? Not the way you'd expect.
3 Novellas. 3 Different Authors. 1 Summer to remember
Buy in the U.S.: Amazon, BN, iBooks, Kobo
Buy international: Canada, UK, Aus/NZ
Have you read my Loving You series from Random House Loveswept? Find out more about book #1, Loving You Is Easy and book #2, All I Need Is You, HERE.
Before you go, make sure to visit my Coming Soon page. I have a lot of books releasing in the next few months!
During your visit:
Be sure to sign up for my newsletter  so I can keep you up to date on my new releases and special pricing of my books. And visit my Let's Chat page to find me on social media!
My current motivation:  "Be better than you were yesterday." Not sure where I picked this one up but I love it!!