Short Stories
To Save a Marriage: Game Night Seduction
This book was previously published as The Group Seduction. But, as much as I loved that title, I fear it had readers thinking there is group sex in the book, and there isn't! So I've given the story a new cover (see below), a new title (I hope you like it!), and a fresh edit to make it even better than it was before!
A holiday short story. Approximately 12,000 words
Gambling on seduction to save a marriage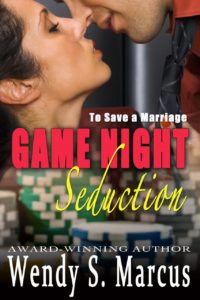 The holidays are approaching fast, and Annabella Cristy—a thirty-nine-year-old, plumper-than-she'd-like-to-be, mother of three—is determined not to let another year end without reigniting the spark in her marriage. So she enlists the help of three not-so-happily married, similarly sexless friends to stage a seduction of their husbands on game night.
…could be the riskiest bet of all.
When Jack Cristy finds a brand new negligee and a pair of sexy silver stilettoes hidden in the back of the closet he shares with his wife, he knows something's up. It's been years since she's come to his bed wearing anything close to sexy. Why does she have them? And just who the hell is she planning to wear them for?
Praise for To Save a Marriage: Game Night Seduction
"It was so easy to identify with Bella and her friends, and how marriage and everyday life can erase sexuality. Loved the premise, characters, heat level, and of course, the ending! What a fresh and unique story – HIGHLY recommended!" ~ New York Times bestselling author, Jennifer Probst
"Wendy S. Marcus is a gifted writer telling an important story about the perils of taking our spouses for granted. This book should be required reading for struggling married couples." ~ Lynne Marshall, author of A Soldier's Second Chance
"This short read will strike a chord for anyone who's been married for several years and has the added responsibilities of children, work and more. Treat yourself to this story this weekend!" ~ Kelsey Browning, USA Today bestselling author of Going Hard, Steele Ridge Series
"Wendy S. Marcus has given her readers a delightful story, just in time for the holidays! How great is it, when you read a story and it's so close to your own life that you find yourself saying, "That very thing has happened to me!" You might just ignore those "Do not try this at home" warnings by the time you reach the end!" ~Jan Meredith, Award-Winning author of Playing Doctor
Add to your books on Goodreads
Buy on Amazon: U.S.,  Canada,  UK,  Aus/NZ