Novellas
Consequences and Redemption
(Previously published separately as part of Carly Phillips Dare to Love Kindle World with the titles A Dare with Consequences and A Dare Without Regret)
Now available as 2 novellas in 1 great read!
Unexpected babies. A plea for help.
For twin brothers, stepping up leads to love.
Consequences
Ren Monighan is living the dream, running his very successful business from a condo overlooking beautiful Miami Beach – not that he's around much to enjoy the view. He spends so much time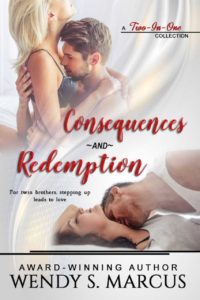 traveling between professional and college football teams, filming practices and creating virtual reality play simulations, he has none left over to look for love. But passing a few hours naked with a pretty bartender fits into his schedule just fine.
Anya Solokov has been working hard to make a better life for herself in New York. She's moved past her days of scrounging for food and doing things she isn't proud of to survive. An MBA from NYU will guarantee her independence and ensure she never has to scrimp and save or go hungry again. When an unplanned pregnancy puts Anya's lifelong goal in jeopardy, Ren's ready to step up. But headstrong Anya won't accept his help unless he comes up with a plan that works for both of them.
Redemption
Ryan Monighan is one of the most popular players on the Miami Thunder Football Team. An all-star running back, he always makes time for his fans. They want a picture? He smiles pretty. An autograph? He's always got a marker handy. Too bad the only thing sexy, sassy Kiley Ivers wants from him is the one thing he will not do for a fan. And she won't take 'no' for an answer.
Kiley Ivers is barely keeping it together. After losing her family in a tragic car accident, she's left alone to run the family bakery and care for her thirteen-year-old nephew, Tyler. The sole survivor, he's stuck in the hospital, depressed and in pain. And Kiley will do anything to get his favorite football player to stop by for a visit. Even go out on a date with him.
When things heat up between them, Kiley is on board with a short fling, as long as Tyler doesn't find out. She plans to be a respectable guardian for her impressionable young nephew. Unfortunately, nothing in Ryan's life stays secret for long.
Buy on:
Amazon: U.S., UK, Aus/NZ, Canada
Add to your books on Goodreads.
Summer Temptation
Part of The Hot in the Hamptons series that I wrote with my good friends Liz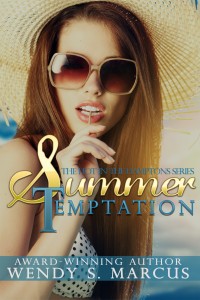 Matis (Summer Dreaming) and Jennifer Probst (Summer Sins). Three separate novellas. Three different authors. One summer to remember. Read them all, or just read one. It's up to you! But when read together you'll find extra story scenes to enhance your reading pleasure.
Here's the blurb:
Meet Leigh DeGray…
After graduating college with honors and landing the job of my dreams in New York City, I'm off to The Hamptons to spend the summer with my two best friends. My life seems perfect, right? It's not. The truth is, I have a secret that may make the future I'd planned so carefully completely fall apart. A hot summer romance is the absolute last thing I'm looking for… Until I meet a man who tempts me like no other and shows me a hot summer romance is exactly what I need.
Meet Nick Kenzy…
After two years of working my ass off as a Wall Street analyst, I'm out of a job, with no warning, no thank you, and no severance. Am I angry? You're damn right I am. So when I head to the Hamptons for the weekend to spend time with my granddad, I plan to regroup and relax before I return to the city to hit the job search hard. I don't need any distractions. Then I meet Leigh. Suddenly, a summer temptation makes me question everything I want for my future…
Love burns hotter in the Hamptons. Come play.
Buy on Amazon: U.S., UK, Canada, Aus/NZ
Goodreads
.
The V-Spot
A Cosmopolitan Red Hot Read from Harlequin. (This is a hot one!)
How hot is your night going to get? Take the quiz and find out!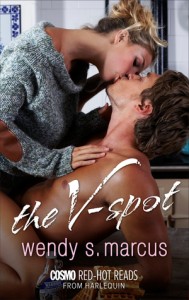 1. You're a curvy, cute and practical nurse, ready to unleash your inner naughty nymphette for your 25th birthday. You start with…
a. Chocolate cake.
b. Champagne. Lots of it.
c. A blind date set up by your daring best friend.
2. Your guy turns out to be popular (and insanely hot) wrestler Brody "The Bull" Bullock. You…
a. Run for the door.
b. Admire his hotness, then run for the door.
c. Imagine him naked.
3. You're meeting Brody at The V-Spot, a "Voyeur Motel." What are you wearing?
a. A cute sundress with wedge sandals
b. You're not going anywhere without Spanx
c. Doesn't matter. Brody is sexy enough that it's all coming off!
If you selected all of the above, you're in for the night of your life….
Check out these great reviews on Goodreads.
Buy in the U.S.: Kindle, Kobo, Nook, Harlequin, ibooks,
Buy in the UK: Kindle, Mills and Boon UK
Buy in Canada: Kindle
Buy in Australia: Kindle, Mills and Boon Australia
Check out my inspiration for for The V-Spot on Pinterest.