Hi! Welcome to my website!
After taking a break from writing, I am absolutely thrilled to be a part of Sarina Bowen's World of True North, Speakeasy, series. My contribution, Stargazer, is available now! (See links below.)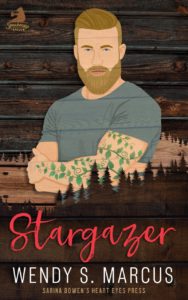 Here's the blurb: 
Randall Dickson is coping. Sort of. An upcoming medical eval, one that could end his military career, has him stressed and making bad choices. So when a concerned friend issues a strongly-worded "invitation" to Vermont, R.D. is all in for a change of scenery, a temporary job as a bartender, and the opportunity to shake himself out of his self-destructive routine. 
Then he sets eyes on his seriously sexy new co-worker… 
Lily Reynolds, an artist by day, Speakeasy's favorite bartender at night, works hard to stay positive, unlike her surly new coworker. He may be a treat to look at, but that grumpy attitude and terse manner are not her type. So when Lily finds herself in desperate need of someone to share expenses, she convinces R.D. to rent her vacant room. There's no way she'll find herself falling for him.
She'd like to find the secret admirer who's leaving her secret love notes around the bar, though. But he won't reveal himself… 
This standalone contains: opposites who definitely attract, a workplace romance, and an opinionated French bulldog.
Available on Kindle Unlimited:  
Amazon US,  Amazon CA,  Amazon UK,  Amazon AUS  
And on:
Add Stargazer to your To-Read shelf on Goodreads. 
Have you read my Loving You series from Random House Loveswept? Find out more about book #1, Loving You Is Easy and book #2, All I Need Is You, HERE.
During your visit: Be sure to visit my Let's Chat page to find me on social media!
My current motivation:  Don't ruin a good today by thinking of a bad yesterday. Let it go.