Coming Soon
** This just in!! **
I'm going to be writing Ryan's story! (Ryan is Ren's brother from A Dare with Consequences, part of Carly Phillips Dare to Love Kindle World.) Look for A Dare Without Regret releasing (in the U.S. only) on July 6th!
Check out this great cover made by the talented Jan Meredith!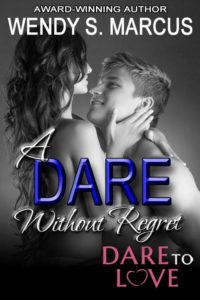 Ryan Monighan is one of the most popular players on the Miami Thunder Football Team. An all-star running back, he always makes time for his fans. They want a picture? He smiles pretty. An autograph? He's always got a marker handy. Sex? If she turns him on, then heck yeah! Too bad the only thing sexy, sassy Kiley Ivers wants from him is the one thing he will not do for a fan. And she won't take 'no' for an answer.
Kiley Ivers is barely keeping it together. After losing her family in a tragic car accident, she's left alone to run the family bakery and care for her thirteen-year-old nephew, Tyler. The sole survivor, he's stuck in the hospital, depressed and in pain. And Kiley will do anything to get his favorite football player to stop by for a visit to cheer Tyler up. Even go out on a date with him.
When things heat up between them, Kiley is on board with a short fling, as long as Tyler doesn't find out. She plans to be a respectable guardian for her impressionable young nephew. Unfortunately, nothing in Ryan's life stays secret for long.
Kindle World books do not go up for pre-order. So please check back around July 6th for the buy link!
 * * *
On August 1, 2016 be on the lookout for two more Harlequin Mills and Boon medical romances! These stories are written in the same style as my Random House Loveswept books. The only difference is they're a little shorter (50,000 words) and they have very little cursing. If you haven't read my medical romances, I highly recommend you give these two connected stories a try!
#1 The Doctor She Always Dreamed Of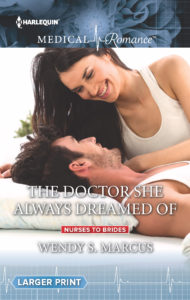 Dare she dream of forever?
Nurse Kira Peniglatt isn't in the market for a happy-ever-after. Between her busy job and caring for her sick mother, she's learned the hard way that she comes with too much baggage for most men to handle.
Except Dr. Derrick Limone isn't most men—he's caring, funny, outrageously sexy…and he understands that she comes as a package deal. One sizzling kiss from Derrick later, and suddenly Kira hopes… Has she finally found the man she's always dreamed of?
Pre-order in the U.S.: Amazon, BN, ibooks, Kobo
Pre-order international: Canada, UK (Aus/NZ link coming soon)
Add to your books on Goodreads
#2 The Nurse's Newborn Gift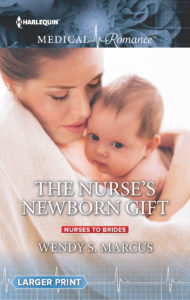 Brought together by a baby…
Nurse Krissy Peniglatt promised her best friend she'd have his baby through IVF if he didn't make it home from the front lines. When the time comes to make good on her promise she's confident she can handle being a single mom. If only Spencer Penn, the baby's godfather, will agree!
There's always been tension between them, and yet the warmhearted woman Krissy has become takes Spencer's breath away. But can he convince Krissy he wants to be a real daddy for her newborn baby?
Pre-order in the U.S.: Amazon, BN, ibooks,  Kobo,
Pre-order international: Canada, UK (Aus/NZ link coming soon)
Add to your books on Goodreads