Coming Soon
On August 1, 2016 be on the lookout for two more Harlequin Mills and Boon medical romances! These stories are written in the same style as my Random House Loveswept books. The only difference is they're a little shorter (50,000 words) and they have very little cursing. If you haven't read my medical romances, I highly recommend you give these two connected stories a try!
#1 The Doctor She Always Dreamed Of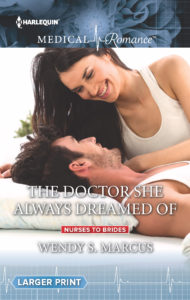 Dare she dream of forever?
Nurse Kira Peniglatt isn't in the market for a happy-ever-after. Between her busy job and caring for her sick mother, she's learned the hard way that she comes with too much baggage for most men to handle.
Except Dr. Derrick Limone isn't most men—he's caring, funny, outrageously sexy…and he understands that she comes as a package deal. One sizzling kiss from Derrick later, and suddenly Kira hopes… Has she finally found the man she's always dreamed of?
Pre-order in the U.S.: Amazon, BN, ibooks, Kobo
Pre-order international: Canada, UK, Aus/NZ
Add to your books on Goodreads
#2 The Nurse's Newborn Gift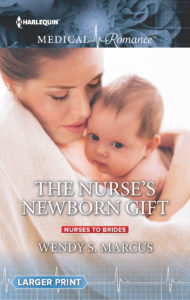 Brought together by a baby…
Nurse Krissy Peniglatt promised her best friend she'd have his baby through IVF if he didn't make it home from the front lines. When the time comes to make good on her promise she's confident she can handle being a single mom. If only Spencer Penn, the baby's godfather, will agree!
There's always been tension between them, and yet the warmhearted woman Krissy has become takes Spencer's breath away. But can he convince Krissy he wants to be a real daddy for her newborn baby?
Pre-order in the U.S.: Amazon, BN, ibooks,  Kobo,
Pre-order international: Canada, ,UK Aus/NZ
Add to your books on Goodreads