Coming Soon
I've got a short holiday story releasing in early November. This was previously published as The Group Seduction. Unfortunately, although I love the title, I worry a lot of people thought the story was about group sex, and it isn't. So I've given it a new title, To Save a Marriage: Game Night Seduction, a new cover (see below) and a fresh polish. I hope you'll check it out!!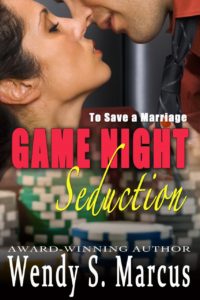 Gambling on seduction to save a marriage
The holidays are approaching fast, and Annabella Cristy—a thirty-nine-year-old, plumper-than-she'd-like-to-be, mother of three—is determined not to let another year end without reigniting the spark in her marriage. So she enlists the help of three not-so-happily married, similarly sexless friends to stage a seduction of their husbands on game night.
…could be the riskiest bet of all.
When Jack Cristy finds a brand new negligee and a pair of sexy silver stilettoes hidden in the back of the closet he shares with his wife, he knows something's up. It's been years since she's come to his bed wearing anything close to sexy. Why does she have them? And just who the hell is she planning to wear them for?
Links to purchase coming soon!