I'm thrilled to share, on Friday, October 18th, Secrets of a Shy Socialite won the NJ RWA Golden Leaf Award for best in Contemporary Series!!! I've finaled in a lot of contests over the years, both as a writer and as a published author. But this is my very first win! And though it took a lot of driving (4+ hours round trip in Friday New Jersey traffic) it was wonderful to be able to accept the award in person. But lesson learned – next time I'll jot down an acceptance speech, just in case.
I remember attending the NJ RWA conference last year and thinking how great it'd be to see one of my books displayed at the award ceremony. And one year later, here it is!!! (Bottom right)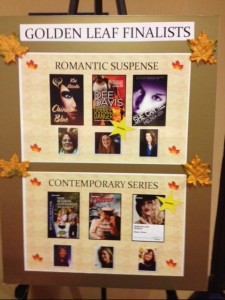 And here's the beautiful award!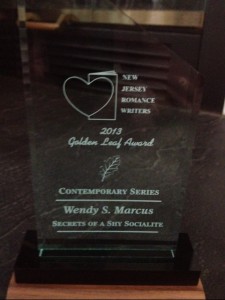 And here's me with the other winners!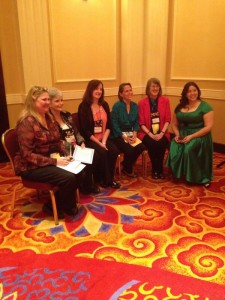 I don't write to win awards. I write so readers can escape into, and hopefully enjoy, my stories. But winning the Golden Leaf Award was a wonderful experience. Thank you New Jersey RWA!