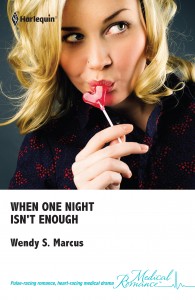 I have been waiting for the official list to go up on the OK RWA website, but I can't wait any longer to share the news!
My  debut  Harlequin Medical Romance, When One Night Isn't Enough, is a finalist for Best First Book in the National Readers Choice Awards here in the U.S.! As soon as the official list is available, I'll sneak back in and add the link to this post. But let me tell you, Victoria Dahl, Julie James, Brenda Novak and Roxanne St. Claire are on it. And I'm super excited to find my name amongst some of my favorite authors.  
If you haven't read When One Night Isn't Enough, and would like to,  it's still available. Check out my Books page for links to purchase.
Sorry I haven't been updating my blog regularly. Lately, the best place to find me is on Twitter. I'm hoping to be back to blogging on a regular basis soon.
 Hope all is well with all of you.
Update: Here's the link: http://www.okrwa.com/NRCA/nrca11.htm