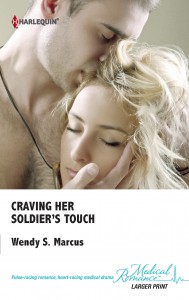 For those of you who aren't familiar with NetGalley, it's a way to get free copies of books in exchange for an honest review.
This is directly from the NetGalley website: If you're a reviewer, blogger, journalist, librarian, bookseller, educator, or in the media, get a FREE NetGalley account to read and review titles before they are published.
I mention this because I just found out there is a copy of Craving Her Soldier's Touch available on NetGalley and I would appreciate some more reviews on Goodreads,  Amazon and/or Barnes and Noble.
If you qualify to set up an account at NetGalley (you can find out more HERE) please check out and review a copy of Craving Her Soldier's Touch today. (Or when you have a free couple of hours.) You can find it HERE.
Want to know more about Craving Her Soldier's Touch? You can read a special sneak peek at the prologue HERE or an excerpt from Chapter One HERE.
Thank you!